"…with your program he got even better. Max wasn't great at passing and catching but now, he's not bad. He
wasn't the best ball handler but now he's confident and comfortable so his movement in and out of the paint and through traffic makes him a 2nd option when he used to be the last choice. Max is no longer the easiest to trap on the right and will happily dribble through traffic under the hoop to emerge open on the other side/left
side and he'll ditch his defender in the process " –Al M.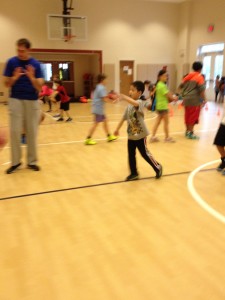 Energetic
Fast Paced
Lots of Valuable Learning
Teamwork
Confidence Building
Fun
Challenging
Overall Fitness Training
Learning by Doing
Players will learn:
Proper Footwork
Important for offense and defense.  How to stay on their toes and keep balanced.
Ballhandling
Very important skill to learn which includes dribbling, passing, and receiving.  Improve your ability to score off the fast break.
Shooting
Proper technique using the BEEF method  Creating good shooting habits.
Moves
How to get open without ball.  Create your own shot off the dribble.  How to set screens to get open.
And much more!!
NEW! Speed and Agility Training Added
A special area is set aside for work on footwork, speed, and explosive moves!
"We're already seeing improvements in Sarah, particularly her aggressiveness in the paint and her judgment about when to shoot when to pass.  She still has plenty of room for improvement, but we're glad to see the progress.  Maybe more/most important, Sarah is still loving the game and has the desire to work hard on it!  We're looking forward to getting her back into your training classes"- Jane F.
All players will be shown how to best practice on their own to develop into a better player.
Player will test skills in a series short quick games and scrimmages
Camps will be broken down into age and ability groups.
To receive the most repetitions and use of the court, there is a limit to the number of registrations.
Player evaluations at the end of each camp.
You Can Choose 1-5 Dates:
June Camp: Monday, June 26th to Thursday, June 29th
July Camp: Monday, July 17th to Thursday, July 20th
August Camp #1: Monday, July 31st to Thursday, August 3rd
August Camp #2: Monday, August 7th to Thursday, August 10th
August Camp #3: Monday, August 14th to Thursday, August 17th
Who: Boys and Girls, Ages 6-15
Time: 9:00am to 3:00pm, half day 9am to 12pm
Where:
Providence Presbyterian Church Gym (gym is located in the back of the church)
9019 Little River Turnpike
Fairfax,VA 22031
Regular Price:
                        Half Day                 Full Day
One Day:             $70                           $125
Two Days:           $125                         $170
Three Days:        $155                          $195
Four Days:          $170                          $215
 

Slots are first come, first served

Click the drop down box below to reserve your spot

Half Day Options:

Full Day Options:

Summer Camp Coaches

Keith Smith

Coach Smith has been an FPYC Boys & Girls Basketball for 7 seasons and was the 1st Assistant with the FPYC Bandits.

He was the coach of the Fairfax HS Girls JV team during the Vogues Fall League.

He also teaches beginning basketball to 6-14 year olds with the City of Fairfax and Falls Church Parks & Rec. as well at 10 elementary schools.

Coach Smith also hosts a blog dedicated to youth basketball.  www.bestyouthhoops.com/blog