Will Your Child Get Any Exercise over the Holidays?
* No Basketball Practice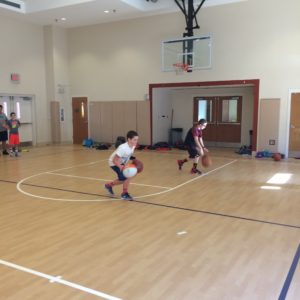 * No School (No PE classes)
* School Gyms will be closed
* Time for lots of Video Player and TV Watching
IMAGINE Your Child  Performing At A Camp That:
Is Energetic
Keeps the Kids Moving
Creatively Encourages Teamwork
Builds Confidence
Makes Basketball A Fun Sport
Challenges Your Child To Do Their Best
Develops Overall Fitness
Has A Learning by Doing Philosophy
Players will learn:
Proper Footwork
Important for offense and defense.  How to stay on their toes and keep balanced.
Ballhandling
Very important skill to learn which includes dribbling, passing, and receiving.  Improve your ability to score off the fast break.
Shooting
Proper technique using the BEEF method  Creating good shooting habits.
Moves
How to get open without ball.  Create your own shot off the dribble.  How to set screens to get open.
And much more!!
All players will be shown how to best practice on their own to develop into a better player.
Player will test skills in a series short quick games
Camps will be broken down into age and ability groups.
To receive the most repetitions and use of the court, there is a limit to the number of registrations.
4 Dates:
Monday, December 18th
Tuesday, December 19th
Thursday, December 28th
Friday, December 29th
Boys and Girls, Ages 6-15
Time: Full Day, 9:00am to 3:00pm,
1/2 day: 9:00am to 12:00pm
Where:
Providence Presbyterian Church Gymnasium
9019 Little River Turnpike
Fairfax,VA 22031
Regular Price: (Contact me at 703-691-8318 for Huge Discounts)
                        Half Day                 Full Day
One Day:             $50                          $80
Two Days:           $100                        $150
Three Days:        $150                        $220
Four Days:          $200                       $290
Early Bird Special
VYI, FPYC, CYA, BRYC, Burke, Turnpike, Falls Chuch  Parents please contact me for your 25% "Discount Coupon " if you register for a Full Day.  (Do not register from this page to get the special rate)
This offer ends on Saturday, Dec. 16th at midnight
Call 703-691-8318 or email to: keith@bestyouthhoops.com
Limited Space Available
Slots are first come, first served
1/2 Day Options
Full Day Options
Head Coach: Keith Smith
Coach Smith has been a FPYC Girls & Boys Basketball Coach for 6 seasons and was the 1st Assistant with the FPYC Bandits, a summer select team
He was the coach of the Fairfax HS Girls JV team during the Vogues Fall League for 2 seasons.
He also teaches beginning basketball to 6-13 year olds with the City of Fairfax and Falls Chuch Parks & Rec. as well at 10 elementary schools.
Coach Smith also hosts a blog dedicated to youth basketball.  www.bestyouthhoops.com/blog